Adequate amount of food. Please bring food in a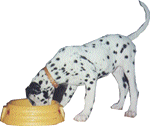 "Ziploc" baggie or
dogs name on canned food.
Special or Favorite Treats
Any Required Medication
First time visit only:


Proof of Flea and Tick Prevention
Shot Records showing the
Bordetella Vaccine

We do not need your bowl, toys, measuring cups, travel crates, tote bag, leashes, beds, brush/combs or blankets. If you insist on leaving them, we cannot guarantee the return of the item and we will not be held responsible for the cost of replacement.