Precious Pets provides all the bedding, bowels, love,
hugs, kisses, toys and treats.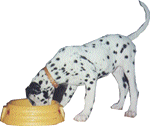 We require you to provide an adequate amount of food in a "Ziploc" baggie or canned food with dog's name on them with at least one extra feeding in case of travel delays. For extended stay, a small bag of food will be accepted.
Special Diet or Favorite Treats are welcomed.
All medication needs to be marked with clear dosage
information and instructions.
First time visit only:


Proof of Flea and Tick Prevention Shot Records showing the
Bordetella Vaccine
Please consult your Veterinarian for recommendation regarding
the Canine Influenza Vaccine.
We require updated shot records on file at all times.